Saturday, June 26th
Tahoe Vista to San Francisco, California
On our way to San Francisco, we were stopped at an Agricultural check. As the agent looked in our van, she asked where we were from and if we had any fruits or vegetables with us. We replied that we were from Pennsylvania and we had an apple with us. She asked, "Is the apple from Pennsylvania?" We wanted to say, yea, and do you want to smell it. But, we nicely replied, "no, we bought it at the store in California."
We were going to be meeting our friends Irma and Bill Weaver in San Francisco. By e-mail we had communicated when we would be arriving and since they had plans to go to Sausalito, they were going to leave a key for us. As we pulled into the hotel, Irma was standing on the upper level. When she saw us, she let out a scream of pure joy and came running down the stairs. Irma is a great hugger! After so long of just Fred and I, it felt wonderful to be warmly greeted by friends.
Our first order of business was for Irma and I to have an Irish Coffee at the Buena Vista at Fisherman's Wharf. As is the custom at the Buena Vista, you pull up a chair and sit with whomever has room.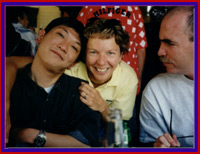 We shared a table with Jason and Rafael, two guys who lived in San Francisco. They kept us entertained with their antics as we sipped our coffee. Bill was a sport and tried one of the famous Irish Coffee's, but Fred refused as he hates coffee. Before long, Tony from Los Angeles joined us at our table. He and a friend had rented mopeds and somehow they had become separated. Tony's friend still had not shown up by the time we said our good byes.
The four of us strolled by Ghiradelli Square (famous for chocolate), through Fisherman's Wharf with all the sidewalk vendors and street performers, and ended up at Steel Head Brewery. As soon as we walked inside, I realized that I had left our cameras (digital and regular) back at the Buena Vista.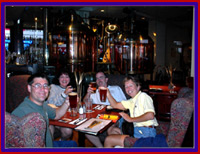 I sprinted out the door with Fred on my heels, down the street and up the four blocks to the Buena Vista, heart pounding the entire way. Fortunately, our kind table mates were honest people and had given the camera case to the bartender. I thanked them profusely and at a much slower pace Fred and I returned to Steel Head where Irma and Bill were patiently waiting. We settled into big comfortable chairs at a table for four, drank our excellent tasting micro brews and caught up on news.
---
---
The following is a guest column by our friend Irma Weaver who is sharing her thoughts and memories of her visit with us.
San Francisco, California by Irma C. Weaver
Saturday, June 26 arrived. After spending several hours in Sausalito, Bill and I returned to our motel room in San Francisco. All of a sudden, I had this urge to go out on the balcony (so to speak) and look down into the parking lot. There it was; the Big Kahuna, backing up into a space, with Joni giving Fred some guidance. I yelled down. I was so excited to see our friends, Joni and Fred! I ran down the steps to meet up with Joni. We hugged and my eyes filled with tears of excitement. Then Fred says, "what am I, chopped liver?" You gotta love him.
We went upstairs to meet up with Bill. After going through some quick catch-up items, and a few phone calls later, we headed out to lovely Fisherman's Wharf. Fisherman's Wharf has something for everyone. As Joni mentioned in her journal on San Francisco, Irish Coffee was definitely the order of the day at the famous Buena Vista. We had fun "picking" our table. We even handed out maps of the San Francisco area to very suspecting tourists. One of our table mates, Toni, who was from Los Angeles, was on the same flight as I was, on Sunday evening.
After drinking Irish Coffees, and a few brews, we headed out onto the streets of the Wharf. We landed at Steel Head Brewery. As Joni realized she left her camera bag at the Buena Vista, she and Fred ran back and were very fortunate. The people we had spent a few hours with, gave the bag to the bartender for safe keeping. Whew. That was close.
We were seated at a neat table with large, upholstered living room type chairs. We toasted to being together in San Francisco. It was almost too exciting to be true. We've both been to San Francisco before, and it was really fun to be there together.
A while later, we headed out for dinner, and I think it was really good. We walked through Ghiradelli Square. It is all lit up at night and is very inviting. There is so much walking involved in San Francisco, and I mean up-and-down those steep streets that are really cool to look at.
On Sunday, we had a delightful breakfast, and headed out to buy some jackets that were being sold on the other side of the Golden Gate Bridge. The weather was delightful in San Francisco. You actually needed a jacket at certain times of the day. What a rude awakening when Bill and I returned to Lancaster and found out that we're having days on end of 100 degree plus weather. Yuch!
Then came the Pride '99 Parade. It was seriously mobbed. We were people-to-people in the crowd trying to get a glimpse of the parade. There was lots of food, and other assorted booths. This is truly part of the San Francisco culture, as is the beautiful Civic Center and downtown area. Parking is another story.
Time to leave for Candlestick Park. It was packed there, also. There was a Wine Fest going on (but it cost $10 to get in!), and Fan Fest, with lots of games, giveaways, and booths. After enjoying that for a while, we headed into the stadium. It was very exciting for me to be at Candlestick, as I've always had a special affinity for California. We looked for the press box area and found someone who we could pass a note to for Joe Morgan. Joni wanted to send greetings to her family. I don't know if the greeting was passed on or not. We'll have to check with Mom and Dad.
I couldn't believe all the people who had parkas with them. We were prepared for it to get cooler to the tune of long pants and a sweatshirt. I saw three action-packed innings and then had to leave to the airport. As luck would have it, a taxi pulled around just as I showed up with my luggage in tow. It was tough to leave my friends (and Bill, of course) at the ballpark.
Meeting up with Joni and Fred in San Francisco will always be a very fond memory for me. I'm thankful that we had the good fortune to go out and spend some time with them, and share in their adventure of a lifetime. Time moves along at a rapid pace; it was enriching to seize a few days with our friends.
Thanks Irma!
---
---
Sunday, June 27th
San Francisco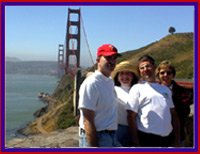 TIme to do the SF tourist standard. We drove across the Golden Gate Bridge and took pictures of the beautiful landmark. From this side you not only get a great view of the bridge but the city itself. There were a bunch of vendors here selling tee shirts and sweatshirts. Of course we had to buy one. The price was to hard to pass up.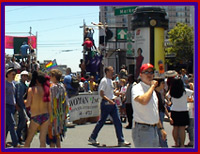 The biggest event in San Francisco was being held today. The Gay Lesbian Bisexual Transgender Pride Parade 99 was a sight to behold for four Lancaster County hayseeds. This event has been going on in San Francisco for over 10 years. It was estimated that 500,000 people participated and attended. There is nothing anyone can do in San Francisco to be considered weird. Everyone is accepted.
On to more mainstream activities for us. Time to go the the ball game at Candlestick, oops I mean 3Com Park. I still can't get used to, or like, those corporate names.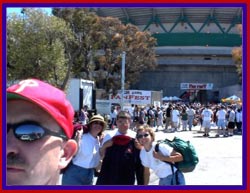 It was fan appreciation day with a big crowd and lots of give-a-ways at a Giants Fan Fest. People had their arms full of goodies. Irma spied people walking around with orange seat cushions and decided she wanted one. By the time we got to that booth, they were out as people had grabbed 6 at at time. Irma is amazing. She walked up to a woman who had an armful of cushions and convinced her to hand one over. Of course, then I wanted one, so Irma talked another woman into sharing. Now that is the gift of gentle persuasion. Irma, you should be in sales!
Candlestick Park is very old, but it was neat to be there because we had heard so much about it. Since our game was at 5:00, the bitter cold we had been warned about did not happen. The inside of the stadium had a feel much like the Vet,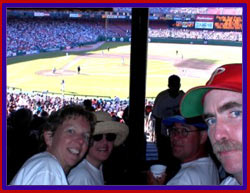 old, round and closed in. Even so, it obviously gets cold and windy as evidenced by the number of fans who had winter coats with them. .
These fans were charged up; more than any other crowd so far. The Dodgers and Giants rivalry electrified the crowd. The chant BEAT LA! BEAT LA! echoed through the stadium constantly during the game. The game was exciting with back to back home runs by J.T. Snow and Ellis Burks. With the Giants leading 7-3, the Dodgers scored 4 runs in the top of the 7th . I thought of my Dad sitting home watching the game, having fits over his beloved Dodgers. In the bottom of the 7th, the Giants had the bases loaded but could not score. The 42,530 fans at the game were treated to an explosive game with 26 hits. The Giants prevailed to win 8-7 in the four hour long game.
Unfortunately, Irma had to leave to catch her flight to LA. She is working there next week. It was sad to say good bye after such a short visit. Bill is staying with us until Wednesday and then flying down to meet Irma for the rest of the week. This couple gets around!
We hit a major traffic jam trying to get out of Candlestick. Poor Bill was driving his rental car with Fred navigating. At one point Bill had to get over 6 lanes and he feaked. However, Fred calmly talked him through it and after an hour of crawling through traffic, we reached the hotel.
---
Monday, June 28th
San Francisco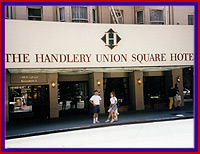 We met Bill in front of our hotel at 12 noon. We are staying at the Handlery Hotel on Union Square, one of our Priceline.com deals. Considering the prime location of the Handlery, we got our room for a song. (Fred, you have to do the singing) I am sure this kind of deal is not available anymore now that Priceline.com has become so popular.
The X-games are in San Fran down by the pier. The walk from our hotel was longer than expected since we turned the wrong way at the pier. We were looking for Pier 30 and had walked past Pier 17 before we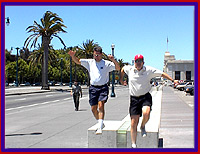 realized that the odd numbers went one way and the even numbers went the other way. So we turned around and headed the other direction for quite a distance. Bill and Fred decided to make the walk back more interesting by walking and running in different wierd ways. When we finally arrived, the line for entrance to the X-games was 10 miles long so needless to say we did not see the X-games.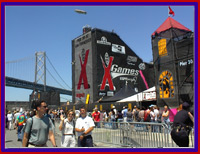 Anyway, we would have had to check our skateboards. Only at the X-games, would there be a long line at the booth to check your skateboard.
So instead of hanging out with the Gen X'ers, we walked down to the Gordon Biersch Micro Brewery. They have one of the nicest restaurants around with great food.
The place was full of other people like us who had intended to go the X Games, but refused to wait in the line. Jaad, from across the bay, sat down at the bar beside us. He was originally from Michigan and he and Fred had fun discussing the 68 Detroit Tigers. Fred's uncle was a scout for the Tigers and as a young boy, Fred was a Tigers fan.
We met Tara at 7:15 at her hotel. Tara was in San Francisco for a Web design conference with Heidi, another MapQuest.com employee who we had met many times in the past.
We went out to a few fine establishments close to our hotel and grabbed a bite to eat before calling it an evening.
---
Tuesday, June 29th
San Francisco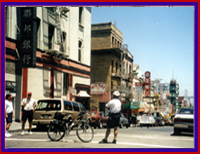 After a morning run and breakfast, Bill, Fred and I still had some time before meeting Tara and Heidi for the Oakland game. After a short stroll through Chintown, which was right by our hotel, we walked to Coit Tower which was a hike from our hotel.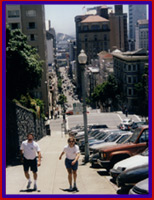 Some of the streets seem to go straight up. Our thighs were screaming.
One hundred and sixty nine steps lead from the street up to Coit Tower for those crazy enough to walk. Coit Tower was named for Lilly Coit who must have been one interesting lady. As a child she was mascot of the fire company and as an adult smoked cigars and dressed like a man so she could gamble. This was back in the early 1900's. When she died she bequethed money to commemorate "this beautiful city I love so much". From the tower, you can view the entire city.
After meeting Tara and Heidi, we took the BART to Oakland. Heidi used to live in San Fran, so she led the way explaining how to get tickets. After a few problems with the ticket machine, we had to figure out which train to take. We knew we wanted the blue line, but the trains coming into the platform were not color coded. Two people on the platform offered differing advice, but we eventually found our way.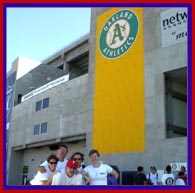 Back in February, the Oakland A's had called Fred in response to a letter about our trip. The guy had told Fred to call him when we got into town and he would fix us up with tickets. Only problem-he was no longer with the A's. Fortunately, Fred had gotten another name and Parker Newton came through with 5 comp tickets. All we had to do was pick them up at the Will Call window. Thanks Parker!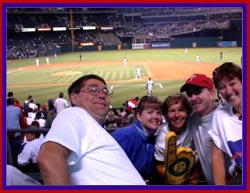 It felt unusual for us to be with a group of friends going to the game. Our tickets were great-lower level along the first base line. We had a fabulous view of the field. Heidi was particularly excited because she used to live in Seattle and the Oakland A's were playing the Mariners.
The A's were on a 10-game losing streak which may account for the low attendance. Only 13,450 fans came out and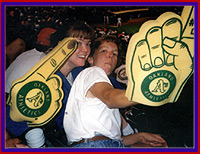 unfortunately the Mariners won 1-0. Heidi bought me a foam finger and after realizing how entertaining it was, bought one for herself. It's hard to explain here how much fun we had with those fingers.
After the game, we found a small crowd of fans waiting behind the fence at the Mariners bus. Heidi wanted to get an autograph, so we waited until the guys came out to board the bus.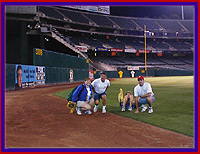 Only one player was nice enough to sign. I do not understand why more players can't go sign autographs even for 5 minutes. Would it really be that much of an inconvenience?
On our way out we happened to see the field through an open gate.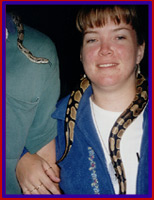 The temptation got the best of us so we had to sneak on the field for a few moments. Heidi was thrilled to be standing on Junior Griffeys turf.
We had no trouble taking the BART back to San Francisco and stopped at Polly Esther's for a Web Group Retro Party. Heidi and Tara had snagged some free tickets to get in. A guy was walking around with two snakes around his neck and Heidi was brave enough to put one around her neck for a picture.
---
Wednesday, June 30th
San Francisco to Fort Bragg, California
Bill had a cozy ride in the back of the Big Kahuna on our way to drop him at the Oakland Airport. I gave him hugs to give Mom, Dad, Judy, Jeanne and Jackie.
We choose to follow Route 1 along the ocean instead of taking the freeway. However, the curving steep road did a number on us. Our stay in the big city must have caught up with us. We had to keep switching drivers on our way to Fort Bragg.
We stopped at an old restored Russian fort along the ocean. The Russians settled there in 1812 and were able to coexist peacefully with the Indians. The maintained the fort until 1841 when it was no longer profitable. The Russian influence is still evident today.
Our hotel for the evening was nothing special. We did not see much of Fort Bragg. We tried to watch the sunset, but could not find a spot to see the sun and scenery. We walked down below the bridge to see the ocean and try to see the sun set, but it was blocked by an Indian reservation and not a picturesque one. Oh well, on to tommorow.
---
Thursday, July 1st
California Coast - Fort Bragg to Eureka
Today we experienced the diversity of the California coast line. Our journey up Route 1 was extremely rewarding. In a study of contrasts, the gently rolling hills dotted with grazing cattle on our right offered a sharply different scene than the wild Pacific Ocean on our left. Unprotected trees on the shore line looked as if they were caught in a perpetual wind, their branches blown back away from the ocean for the rest of time.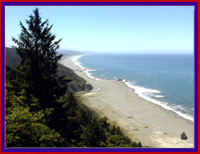 Most of the coast line is protected with very few intrusions from man. Quaint little villages are clustered in between the 14 state parks that cover hundreds of miles.
Sometimes the impromptu stops pay out the best dividends. After only traveling fifteen miles, we pulled into a Vista Point. A barely definable path beckoned us to explore.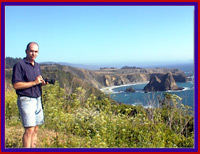 We debated, but decided to follow the trail which led through a delightful meadow to an inlet along the Pacific Ocean. We were enchantingly alone, not a house or person in sight-just Fred, his camera, me, my notebook and the ocean.
The Pacific Ocean is not as perfectly precise as the Atlantic Ocean. The Atlantic rolls into the shore wave after wave, all in rhythm.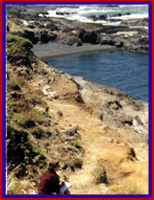 The Pacific, especially at this spot, was unpredictable and wild. Various rock formations rudely interrupted the waves as they swept along on their journey to shore. Here the rocks are dark and uniquely shaped, causing the water to break over them in untamed passion. We felt as if we were watching a fireworks grand finale on the water. Everywhere we looked another stunning display unfolded. The water flowed in, dousing a circular rock and dripped like icing over a hot angel food cake fresh from the oven. Simultaneously, ten feet away, the water flowed over grooved ridges in the rock, resembling a gorgeous waterfall. Other places, the ocean water majestically crashed against the rocks and sprayed a hundred feet into the air. We were charmed by the free spirited dance of the water performing just for us and wanted to stay forever. The Pacific Ocean has captured our hearts.
The wonderful memory of the ocean display we had just witnessed was still with us when we were presented with a completely different palette of scenery. The Avenue of the Giants, a scenic drive in the Humboldt Redwood State Park was upon us. This scenic drive runs along beside the Eel River which at this point in time is low. The rocky river bottom lay open and exposed which is the extreme opposite of the raging river that flooded the area in 1964.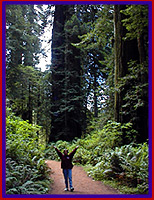 We took a short hike through the woods to admire the Redwoods up close. Only filtered sunlight can penetrate through the canopy of branches formed by these stately trees. We felt small and insignificant as we wandered through the semi dark forest. At 20 feet in diameter and 200 to 300 feet tall, the Redwoods command your full attention. We came upon the Mahan Plaque which commemorates a couple who were instrumental in saving the Redwood forest from logging back in 1924. We are grateful to this couple who strongly believed in the preservation of the forest and had the conviction to do something about what they saw as wrong.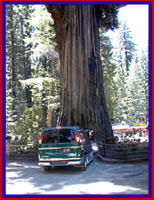 Farther along the Avenue we stopped near the drive through tree for a light picnic. Oops! No way for thour vehicle. Redwoods are big but they are not big enough for the "Big Kahuna". It was quiet and peaceful among the trees. Ferns and clover grew in patches on the forest floor in areas where the sun glimmered through the trees. It was a perfect setting for an afternoon respite.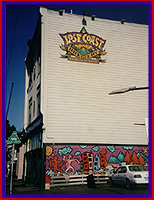 We stayed the night in Eureka at the Sunrise Motel. We watched the World Cup-U.S. against Germany at the Lost Coast Micro Brewery while sharing a soft pretzel and chicken quesadilla. I tried the sample beer platter-tasting all 9 brands. Walking back to the hotel, we noticed the streets seemed empty. We came upon the center of town where some of the streets were blocked off. A local band was playing on the square and it seemed as if half the town was out enjoying the crisp evening. Little kids were showing off by dancing up in front of the stage as long time residents sat in lawn chairs eating ice cream and tapping their feet. For the first time on our trip, we felt as if we had stumbled into small-town America.
---
Friday, July 2nd
Redwood National Forest - Eureka, California to Medford, Oregon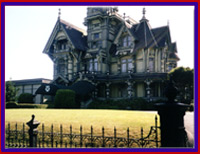 On the way out of Eureka, we drove through the old town section. Back in 1960 some town people wanted to raze the downtown/waterfront section because it was an eye sore. Somehow they got it fixed up and now appears to be thriving. We took a picture of a green Victorian house touted as the most photographed house in California. (highly doubtful!)
The Redwood National Forest in cooperation with several California Parks protects thousands of acres of old growth redwood trees. When the first redwoods were sighted back in 1769, they covered almost two million acres. Today less than 4% of those trees remain, thanks to uncontrolled logging that began in 1851. The State of California had the foresight to preserve several redwood grooves back in 1920. After modernization of logging threatened to destroy the rest, Congress stepped in creating the Redwood National Park in 1968.
The Official Guide recommends that to truly experience the wonder of the Redwood National Forest you need to hug a tree. Our foray into the forest was an exciting pleasure of the senses. The giant redwoods appeared to be growing in small groups allowing sunlight through to reflect off the undergrowth.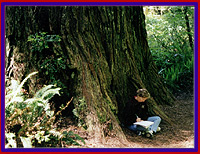 Fred wandered off with his camera as I sat down in the circular trunk of a redwood. The grayish brown bark is thick and covered with linear crevices. It is hard to believe that this tree has stood here in this spot for hundreds of years. As I sit in the cradle of my tree, everywhere I look I am surrounded by natural beauty. The lush green foliage is the brightest I have ever seen. Sword ferns grow five feet tall, their branches look razor sharp but are soft to the touch. The clover, a nuisance in yards at home, fills in along the path. Here and there, wildflowers provide delightful surprises of color. Delicate leaves on tiny trees try to bravely push their way toward the sun.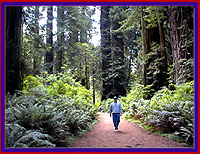 Only 1 in 1,000,000 redwood seedlings will survive.
My peaceful silence is broken by Fred stomping around in the woods trying to get the perfect photo. (Just kidding) Actually, the only sound I hear is the soft whisper of the wind and the birds high in the trees talking to each other. The solitude deep in the forest is the best on earth.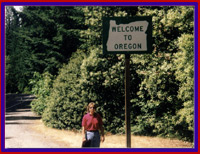 We spent the night in Medford, Oregon at the Cedar Lodge. Since it was Friday before the holiday, we assumed there would be something to do around town. However, Medford was a perfect example of the old adage: this town rolls up the sidewalks at 5:00. We wanted somewhere to catch Sports Center and grab a bite to eat. All the taverns looked seedy especially Lucky's located beside the "Gentlemens Club". We spied a satellite dish on the roof of Mr. Smith's but felt just a little apprehensive as we followed two biking enthusiasts into the bar. Not to worry, it was exactly what we were looking for. We struck up a conversation with a guy who told us he was from Phoenix (Oregon, that is). He told us about his favorite places in Oregon and asked us where we were headed. His immediate response to our answer of Roseburg, was "Why would you want to go there?" That answer made us excited (not!) about the prospect of the 1-star hotel we had booked for the next night.