My Observations:
Saturday, April 12
Congratulations to Judy and Jeff who got married today.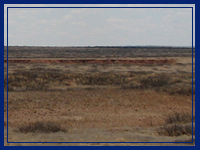 Today we ate well. It was a long drive so we left and thought we could get breakfast on the road. Wrong - We ended up splitting a subway sub for breakfast (along with Grandma Utz's chips) because that is the least evil we could find on the road. Texas is big and so is the space between anything sizable called a town. Lunch was cold leftover pizza. Boy, do we know how to live high on the hog.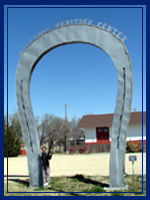 As we were driving down the highway, Fred suddenly did a u-turn. He had spotted what he thought was a large horseshoe but turned out to be The World's Largest MULESHOE. Since we like weird and bizarre stuff, we had to document this icon located in Muleshoe, Texas. Our other stop was in Fort Sumner where Billy the Kid had hung out and is buried.
Our drive took around 6 hours to get from Lubbock, Texas to Santa Fe, New Mexico. The landscape in Texas and through lower New Mexico was scrubby brush and fairly flat. Miles and miles of barbed wire fence outlined ranches-cattle, we presumed, even though we did not see any cattle. Usually the entrance was marked with a gate and arched round pipes in orange, red, or blue proclaiming the name of the ranch.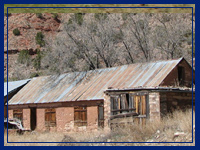 Mountains started to appear as we drove into central New Mexico. Still no towns, only groups of buildings that denoted a community or in some cases what was once a community.
The décor in the condo is what I would consider "try to be" southwest. Stucco walls, tile floor, wood beams on the ceiling, and a corner fireplace. Fred and I unpacked everything in the car, did laundry, went to the store, and made pasta and veggies for dinner. Exciting stuff.

Sunday April 13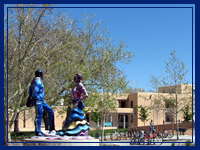 Up and out the door by 9 for our drive to Albuquerque to pick Darla up at the airport. Her plane was an hour late thanks to American Airlines. We took a walk through the University of New Mexico campus. All the open park like space on campus, the art sculptures, and the adobe buildings made the campus seem calm and serene. Of course that could be because it was Sunday morning before 12 so all the students were still asleep. The stadium is located west of campus. There is actually a north, south, and west campus.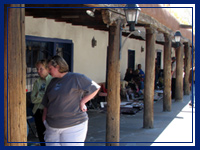 We had a surprise for Darla – the Kelly Brewing Company located in Albuquerque. They had 15 different beers that they brew but we were there too early. They cannot serve alcohol until 12. We drove to Old Town and walked around the shops looking for some history on the area. Darla was on a shopping jag and got some Indian Jewelry. We did finally find a plaque with some infomation. Darla and I told Fred to read it and just give us the cliff notes. Old Albuquerque when owned by the Spanish was a major stop between Mexico City and Santa Fe with buildings dating back to the 1830's.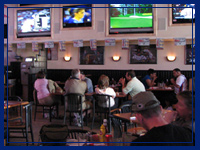 Fred had done some research to find a place to watch the Masters so we went in search of Coaches Sports Bar that promised a unique way to watch sports. As we parked, we saw a rather scruffy dude come out the door but no worries. It was great inside with multiple TV's, the sound was on for the Masters and an added bonus, the Phillies/Cubs were on another TV. In my search to taste 1,000 different beers, we all ordered something different off the menu. Fred tried the Coronitas. We had to laugh when he got a 7 ounce bottle of Corona.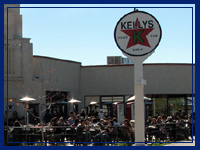 Next we went to Kelly's where we each got 3 free samples of their Micro Brews and then each ordered another beer to drink. (nothing like knocking off 12 different beers in one sitting for my list) Kelly's, is located in a building that had been a Ford Car Dealer and gas station back in the 1930's. It had location, location, location since it had been the first stop in Albuquerque along the famous Route 66. It was interesting looking at the old photos on the wall. Darla got a Kelly's Brewing tee shirt.

Monday, April 14
Golf today is one of the 50 under 50 courses at Santa Ana Golf Course. On the way we took the scenic route and got more than we bargained for. Route 14 took us on the Turquoise Trail.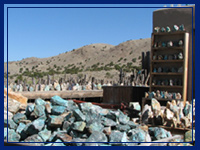 At our first stop in the town of Cerrillos, we came across the Casa Grande Trading Post. Pat and Todd Brown have been here for a long time and able to make a living in this tiny little town with their trading post and turquoise mine stake. Darla and I bought green turquoise pendants that came from the mine here and were crafted by Pat. Attached to the adobe trading post is the Cerrillos Turquoise Mining Museum. Walking through the doorway was like a 100 steps back in time. This was years of collecting old stuff – room after room displayed old bottles, antique dentist chair and implements, coins, rock specimens, mining equipment and old stamps. Every square inch was covered with some sort of memorabilia. Informational displays showing the mine and how they get the turquoise were especially interesting.
As we drove out of town we spotted Mary's bar on the corner and decided we had to come back to visit that establishment at some future point.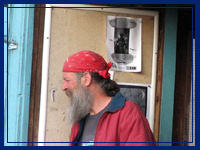 Next town Madrid was an artist town with an interesting looking bar called the Mine Shaft. Another place we would have to visit especially when we saw Grizzly Adams standing on the front porch.
Continuing on Rt 14 we drove to the top of the mountain to Sandia. At 10,600 feet elevation the view went for miles but it was too cold to linger very long. On the map we saw a shortcut so instead of going back down the mountain on Rt 14 we cut across to Route 165. I was driving and what an adventure. This road was unimproved and had suffered the perils of winter with ruts, bumps, and deep potholes. 10 mph was too fast so we had time to enjoy the scenery on the way down as we bumped along. Darla popped some advil to ease her aching back and Fred decided that after this bumpy ride we had to get the car serviced this week. Our 8 mile shortcut took 45 minutes making us late for our tee time. Fortunately the golf course was not busy and we were bumped back.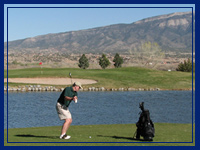 Santa Ana golf course's 27 holes (Tamaya, Cheena, Star) are located on an Indian Reservation so there were no houses on the course and it was walkable. Larry, the starter decided Darla would be fun to pick on. He and his buddy had us all laughing before we teed off. The greens were lighting fast which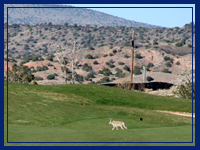 made for some interesting approaches and putts, The course was located in a valley so there was a view of the surrounding mountains on almost every hole. We saw a wolf walk across the fairway. It was a gorgeous day and a beautiful course so we decided to play an additional nine. Skins for 1st 18 – Fred 6, Joni 7, Darla 5
Fred got us beers but Darla decided we each needed two since the bar would be closed by the time we were finished. When she went back in to the bar some ladies complimented her on her beautiful smile. They asked her if she was going to play tomorrow and when she told them she was playing Kaa-pa they told her it would kick her a!@. We got 7 holes in. We wanted to stop at the casino on the reservation but someone from the backseat nixed that idea.
It was a 45 mile drive back to Santa Fe and we were all tired by the time we got back so we stopped at the grocery store to load up on veggies to cook using Darla's new find – steaming bags. We had a bottle of local New Mexico wine and some veggies and left over pasta. Then it was off to bed for Darla. We vow that one of these nights we will experience the night life of Santa Fe New Mexico.

Tuesday, April 15
Breakfast at The Pantry recommended as "the" breakfast place in Santa Fe". Darla ordered the Huevos Rancheros – with the Christmas Chile. I got a side of the green chile but should not have bothered. Even that was too hot for me.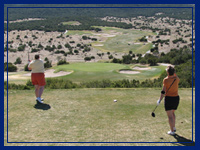 We read about PAA-KO Ridge Golf Club and found out that after today the price was going up $20 per person. PAA-KO turned out to be a bargain especially when we saw the course. The greens had been aerated two weeks ago and were still bumpy but the views were tremendous. The high altitude made us all breathless at times. Darla said to tell you all that she just about died – she was sucking wind due to the 7,000 ft. altitude. Dramatic views off the elevated tees made us feel like we were on top of the world. The holes just kept getting better and better. PAA-KO has 3 nines and the two we played totaled 5900 from the front tees making the course long but not as brutal as I would have thought. We heard that the nine we did not play was even more gorgeous. Skins – Fred 1, Joni 10, Darla 7.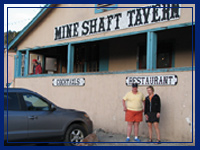 On the way back we stopped at the Mine Shaft in Madrid. Some grizzled old guys were drinking at the bar and we know if Tara had been with us she would have been down there talking to them. The bartender filled us in on the history of Madrid. Madrid had been a company mining town starting in the 1920's. The Mine Company owned the entire town and the workers were paid in chits that they spent at the company store. In the 1970's they stopped mining and the Company tried to sell the whole town for $250,000. No buyers so they broke off lots and sold the houses and lots for $2,000 each. The homes are now going for $200-$300,000.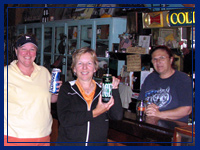 When we walked into Mary's Bar in Cerrillos we were not sure it was an operating bar. It was dark with stuff piled on the pool table and everywhere else. A lady came out from the back and said "We are open anytime someone comes in, what can I get for you?"
Wow, a 24 ounce can of Mickey's Malt Liquor for $1.85 - too good to pass up and another brew to add to my list (I never said I was choosy).
We chatted while we drank our beers with Kathy who is the daughter of Mary. Two of Kathy's cats wandered in to join us. Max, rescued by Kathy's daughter was gorgeous and sat on Kathy's lap while she talked with us.
Three generations of Kathy's family have lived in Cerrillos.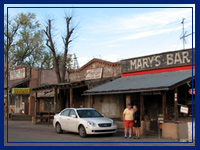 Kathy filled us in on some of the history of her family. Her grandfather owned the Palace, a hotel in town in the early 1900's. He built the building we were sitting in in 1918 and leased it out as a grocery store. It was turned into Mary's bar in 1936 and run by Kathy's parents. 91 year old Mary still tends the bar during the day and Kathy takes over in the evening after she returns from Albuquerque where she goes everyday to tend to her horse.
Kathy's father had been a POW during WWII. He was captured on Christmas Eve by the German's and liberated by the Russians. He died several years ago. Kathy told us about when the movie crew for Young Guns came to town to film. She said the crew hung out in the bar during the day drinking soda and playing pool between takes. Everyone that is except Charlie Sheen who got dropped off in his limo, filmed, and then left in his limo. Beer for Horses was also filmed there. Kathy told us that when the movie crews come to town they make donations to the fire company, police department and pay each property owner when they use their property for filming.
Darla wanted a tee shirt but Mary said she was out. Darla spied a photograph on the wall of the outside of the bar and asked Mary if she would sell it. She would and she did and now Darla has a memento of her trip to New Mexico signed by a 3rd generation Cerrillian.
We stopped on the way back to Santa Fe to get pizza, doughnuts, and a bottle of wine to take back to the condo. One of these nights we will make it to Santa Fe for the nightlife.

Wednesday, April 16
Today is sight seeing day. We are on Route 84 which is the same route we have been traveling since we left Houston.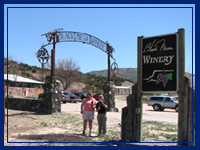 Our first stop was the Black Mesa Winery where we did a wine tasting and bought some wine. Our favorite was the Black Beauty – tasted just like a chocolate covered cherry. It is definitely for sipping since the alcohol content is 19%.
We were almost at the Taos Pueblo when we were stopped by a long line of traffic waiting to park at the Pueblo. We soon found out why. People wearing tee shirts that said The Longest Walk, San Francisco to DC, Feb. 11, 2008 to July 11, 2008 had stopped at the Pueblo and the Taos tribe was welcoming them. We stood on the outskirts of the circle of people not sure what was going on. A monk looking person in the center banged a drum while 50 people of all ages and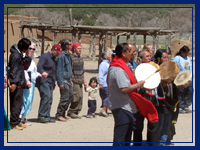 all nationalities stood in a large circle and chanted, some were holding home made flags. Then the tribal leaders from the pueblo spoke welcoming the group and talked about how grateful they were to get their sacred land back. The mountain (Blue Lake?) behind the pueblo had been taken away long ago but President Nixon gave it back to the tribe. The chief talked about how glad they were to have it back and how they will protect it.
After all the speeches, the tribal leader invited everyone to join in a ceremonial dance. Four people from the tribe banged on drums while the crowd rotated in a dance around them. After hearing the speeches and seeing an opening in the circle, I decided to join in and Darla soon followed. We tried to follow along.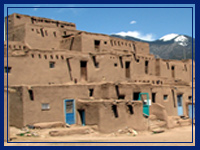 Before leaving, we walked through the parts of the pueblo that were open to the public. The older parts were over 1,000 years old.
Later I looked up The Longest Walk on their website. According to the website, the longest walk in 2008 is commemorating a walk done in 1978 and is being done to raise awareness for the health and well being of Mother Earth, our people, and Sacred Sights, The group will also be cleaning up the highways as they are walking along from San Francisco to Washington DC.
Stopped at Rio Grande River Gorge and walked across bridge. Tried to find a shortcut back to Taos and ended up at the airport. As we were driving back what we did not know was a dead end, we saw brown fur balls scurrying around. There were prarie dogs and we saw at least 10 of them.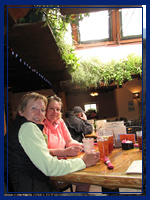 We stopped in Taos looking for food and would up at the Alley Cantina. The building was neat with a high ceiling, garden plants, and skylight but we were disappointed in the food. We each ordered a different kind of taco and unfortunately they were not very good. I went to the rest room and when I came back to the table, Darla was looking through the camera and laughing so hard she had tears in her eyes. She was watching the video Fred had taken at the pueblo when we joined into the tribal dance. Darla and I stick out like two sore thumbs. It looked like we were trying to do an Indian line dance and could not get the rhythm. Who does not belong in this circle?

Thursday, April 17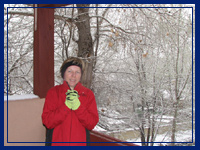 We woke up this morning to snow so change of plans. No golf today. Weird weather-70 and sunny yesterday, 40 and snow today, 70 and sunny tomorrow. We have been lucky with weather. Some bad weather but nothing that has cancelled any plans. Fred and I took the car to the Hyndai Dealer to get an oil change while Darla stayed at the condo and exercised. Our plan was to walk somewhere for breakfast while the car was in for service but the snow and cold wind cut our walk short. So thrill of thrills, we watched Regis and Kelly in the dealers showroom while waiting for the car.
Back at the condo, Fred made us yummy eggs for breakfast.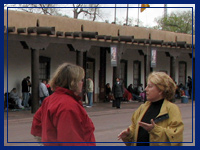 By afternoon the snow had stopped and the sun came out so we went into downtown Santa Fe to go on the walking tour. We were the only three so we had our own personal tour learning a lot about the history of the area. She showed us many downtown sites including the place where men would walk into a grocery store, talk to the owner and then disappear through the back door to a car waiting to whisk them to Los Alamos (the town that wasn't) to work on the Manhattan Project (see below). It was all very hush hush at the time. No one knew who was involved. Our guide also took us into St Francis of Assisi Cathedral and Loretto Chapel, the church with the miraculous spiral staircase.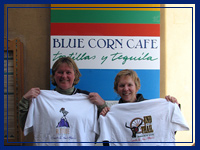 We had an itinerary for happy hour but could not find the Margaritta Factory. Went to Blue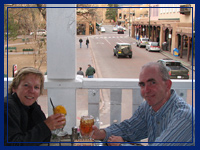 Corn Brewery for some micros and got tee shirts. Next stop was the Ore house (tequila bar) with seats on balcony looking out over plaza. Awesome place to sit and have a drink. We could see old church and governors palace.
Went to the nothing over $5 bar (name-?). Very cozy bar with a fireplace, dark wood, small tables with comfortable chairs and a menu that boasts nothing over $5. Had chicken sandwich and mixed drinks. Fred really liked this place.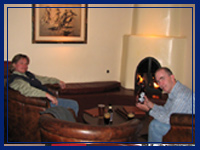 Finally, we had dinner at Rio Chama – Cheese fondue, ribs, very good. We actually sat in a different room in front of a fireplace. Fred had the 24 oz. Arrogant Bastard beer. The waitress joked around with him asking where the arrogant bastard was who ordered the arrogant bastard. The arrogant bastard kicked the arrogant bastard's butt. I got a tour of the wine cellar even though the tour was not intended for me. Little did I know I was tagging along with another couple who arranged the tour. Fred and Darla happily pointed that fact out to me after my return.
Wow! We actually stayed out past sunset!

Friday, April 18
Our golf course today was 15 miles north so Fred suggested we go a few miles further and hit 2 sites, Bandilier National Monument and and Los Alamos.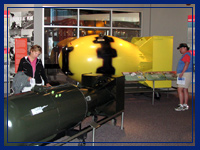 First stop was the Bradbury Science Museum. It contained displays about alot of different research projects but we looked mostly about the information on the most famous one, the Manhattan Project -Development of the Atomic Bomb. They had displays, timelines, a film and most interesting, neplicas of Little Boy and Fat Man - the 2 bombs dropped on Japan at the end of World War II.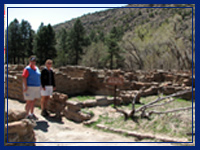 We stopped at Bandilier National Monument for a Chevy Chase Vacation sized tour-only had 1/2 hour. This was suggested by our tour guide yesterday. Very interesting. Thousand year old pueblos very well preserved. We would have liked to hiked and seen more. Fred and I decided to buy the National Park Pass which gets us into all the National Parks we will be visiting, and we are going to hit a bunch.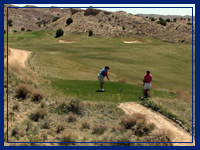 Golf at Black Mesa, La Mesilla, NM– wonderful course. We felt like we were all alone on the course in the middle of nature. Gorgeous views all around. Mountains, sandstone formations, perfect blue sky. It really had the feel of playing out in the countryside with very few alterations to the landscape.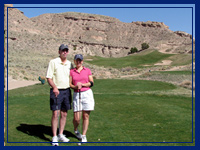 This is one of the most scenic courses we have ever played. This was another course built on an Indian reservation. It cost more than $50 but it was more than worth it. Skins Fred 12 Darla 6 Joni 1
Nuts- time to go back to the condo to pack. Of course that is more of a bummer for Darla than us, but we will miss her.