My Observations:

Monday, June 2 - McKenzie Bridge, OR to Rhododendron, OR
In the morning, we walked across the bridge to get coffee and hung out on the bridge enjoying the river. The small breakfast nook in the cabin had two large windows with a view of the river. This is where we had breakfast. Before packing up, I grabbed my coffee and went down to the river to take a walk. We hated to leave it was so perfect there at Cabin #5.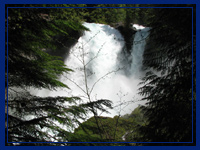 But, on to the next adventure, our first home exchange. We wanted to take the back way to the town of Sandy but several of the roads were still closed due to snow. We decided to go thru Salem, the capital of Oregon but first we stopped along the McKenzie River to hike to the Sahahlie Falls. Fred had his sandals on and little did he know that we would be walking through snow-hard packed and covering the path. We were making fun of the falls because they were only 120 feet high but when we saw them we were impressed with the power the water exuded as it crashed into the river.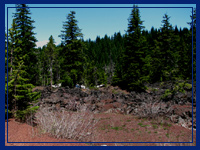 Continuing on our scenic drive up Route 126, we drove through a pine forest. We commented that we could be in PA except that these pine trees were bigger than any we have seen in PA. Further along, the landscape changed and the banks were littered with little pieces of black rock fused together into large chunks of black rock. The rocks were strewn everywhere; it looked like there was a major upheaval event.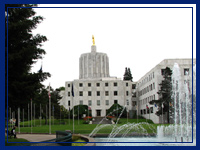 And, the dirt was a chocolate brown. It was the strangest thing.
Salem, the capital, is located between Portland and Eugene-these are the three largest cities in Oregon. The notable feature on the outside of the capital is a gold statue of a pioneer located on top of the building. Inside it had the basic capital accoutrements--the state seal on the floor, a rotunda, and murals painted on the walls. The outside had a park area with a fountain and a circle of flags from every state arranged in the order they came into the United States. PA only missed being the 1st state by 12 days.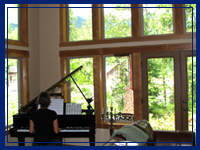 Back on the road again, we jumped on Hwy 5 to save some time and arrived at the Cabin on the Sandy around 4:00. Our home for the next week is beautiful. When we walked in the front door we saw floor to ceiling windows looking out onto trees and the rapidly flowing Sandy River.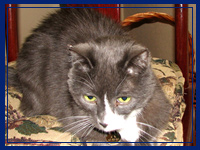 The open kitchen and great room had hard wood floors, granite countertops, and natural wood framing every windows. Gorgeous is all I can say. We are taking care of the two kitties for the week and O.G. immediately came meowing to greet us. Molly took a little longer to show her face. They are both adorable.
Guest writer Judy:
The flight from Miami was way too long. Being cramped in the seat for 2-1/2 hours for the first flight and 4 hours for the second, it was great getting off the plane and meeting up with Jackie and Barry for our hour ride to meet Joni and Fred. Joni was so excited to see us especially being alone with Fred for the past 6 weeks (her words). We met up with Joni and Fred at the Whistle Stop Inn just past Sandy in Rhododendron. How nice to have our drinks already waiting for us. It was only 10pm but for us it was really like 1am. We drank up and went back to the "cabin". What a gorgeous place. It was dark but we could hear the raging water and it sounded very nice and I was looking forward to seeing it in the morning.

Tuesday June 3 - Rhododendron, OR
By Guest Writer Judy
I got up early and walked out of my room. There is a huge window at the stair landing which has a breathtaking view of the flowing river and the trees. It's raining and Barry and Jackie made a great breakfast.
We decided to get out and go to the visitor's center to see what was available to do. We continued on to the Timberline lodge. It was a beautiful lodge hand made with a post and beam structure. The stairway newel posts are made of recycled cedar utility poles.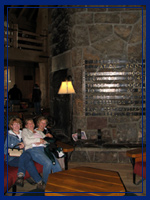 On each post there were carvings of native animals and a later addition to the lodge is the carving of pioneers traveling the Oregon Trail.
The main lobby which serves as the living room of the hotel is a hexagon shape with a 92 foot high fireplace in the center with openings on 3 sides. There are carved and inlaid mountain lions and coyotes in and around the lobby and along with oak floors, massive timbers and giant windows. This hotel was built back in 1936 in just 18 months.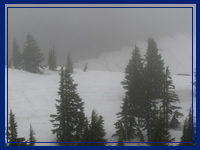 As we walked around the hotel, visions of the movie "The Shining" were visible along with an ax in the door of room 237 with the saying on the ax handle "Here's Johnnie". This was the hotel that was used in the movie and for any of you that think that this wasn't a remote hotel can think again. The road leading up to the peak was very windy and with feet of snow covering it there would be little chance of anyone coming or going during winter. Since it was foggy and rainy, visibility was limited.
I was hungry but the menu was very pricy so we decided to go back to the Ice Axe Microbrewery at the Mt Hood Brewing Company. The food was good and the prices even better. Joni and Fred had the 8 beer sampler.
We headed back to the "cabin" so we could split up and Jackie and Barry went to the grocery store for food Joni and I decided to take a walk. We walked up the lane and Joni wanted to climb the "mountain" asking me "didn't I want to see what was up there?" Not really Joni since we were off the beaten path and I wasn't really thrilled about getting lost on the mountain. We could only go so far because of the thickness of the brush (thank goodness) so we went back down and stopped by the house to get the camera and went the opposite way – towards the main road. We went off on another path that was gated with no trespassing signs but Joni said that is where the owners of the house take their dog for a walk.
It was muddy but we continued on. We came to another gate, went around it, came to a road, went the wrong way and came to another gate. We turned around, turned right onto another road, right onto another road and finally found our way back to the gate for our road. This turned into about a 2 hour walk. We met up with Fred on the way back. Jackie and Barry returned a few minutes later and we just hung out for the rest of the evening. Barry cooked us an awesome dinner of angel hair pasta with scallops, and Fred cooked delicious steaks on the grill.

Wednesday June 4
Judy still guest writing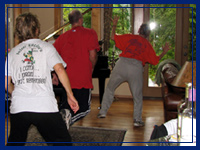 Wednesday we woke to more rainy weather. Joni, Fred and I did an exercise video for about an hour. It was very hard and we were fussing the entire time (ok so it was just me fussing) but we did feel good afterwards. (guest blurb by Jackie - Joni said she was between the whiner (Judy) and the wino – Fred using two wine bottles as weights). Barry made us a great breakfast of French toast and we started our day.
Jackie and Barry took off first to go to see a guy about a bow….she will have to tell you that. (Jackie – Barry wanted to see Wes Wallace, a custom bowyer – makes custom bows for hunting. His work is beautiful and Barry is going to order one when we get home).. We got ready for our trek into the airport to pick up Jeanne and Albert. We were a little early so we stopped at a small outlet center and Jeanne called Fred saying they were at the airport waiting. Seems their plane came in early. We picked them up right where they said they would be and Sophia led us to their condo. On the way we saw that there was a festival along the river that was set up and that the Rose Festival was happening this week,
Their condo was very nice. It was also along the river with a great backyard view up and down the river.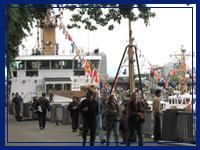 We walked up the river hoping to see a tall ship coming into port but not on our walk. There were some Coast Guard ships along the docks. We watched as the bright lights of the rides flashed an invitation to us. No takers in our group.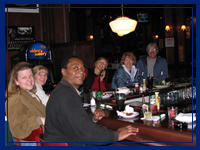 We headed up town to meet Jackie and Barry at a place called McFaddens. It was a great place that had cheap food and it was delicious. Jeanne heard a rumor that the talls ships were approaching and ran down to see them. Fred joined her with the camera but it was a false alarm. They ran into Barry and Jackie there and brought them back to meet us and get something to eat.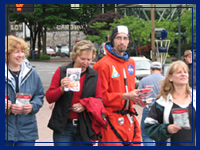 Joni wanted to stop at a brewery that she was at on her last trip. Jeanne thought it was only a short walk across the bridge so we headed out. On the way my sisters and I saw a group crossing the street dressed as astronauts. They were giving away free samples. Since none of us can resist a bargain we ran out into the street to meet them. They seemed a little startled. Free juice packets! Oh boy!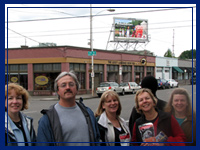 We continued our journey to the Lucky Labradour Brewery. After crossing a busy bridge and walking 3 blocks under an elevated highway we eyed our destination.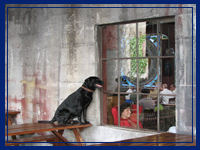 This bar was very "rustic" and allowed dogs on the patio but not inside. As we were enjoying our drinks on the patio we noticed a dog running from the door to a window and back. He was obviously looking for his owner who went inside. We left there and walked around town and stopped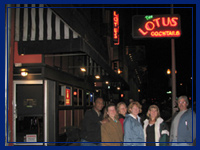 at a place called Lotus bar and card room. It was a small place where we had drinks. We had a good time singing, Fab and the Four J's (Fred, Albert Barry) Ok so it was just us girls singing – ok just Jackie, me and Joni. We also made up my man list and had a few laughs about my perfect man!! It seemed like it could be fun later on in the evening but we decided to head back towards our car. Joni and I wanted to stop in at a few other places but they weren't appropriate for the guys.
On the way back Sophia programmed to take us home the fastest way. Fred however wanted to go his own way and it took us longer. (Fred disagreed, of course.) She kept adding minutes every time Fred didn't make the turn she wanted us to make. That's what he gets messing with a woman!
Driving through Sandy it seems that Fred was speeding (52 in a 40) and a police officer pulled us over. I had a little fun with Fred but he didn't think it was as funny until we got let off with a warning and we laughed all the way back. (Because Judy kept joking that the officer did not see her and that she should have put down her window and said hello) Joni said that if he wouldn't have gotten pulled over we could have beat Sophia's time back to the cabin. I said that if he had taken the route Sophia told us to go he wouldn't have gotten pulled over because we would have been back to the house by then. When will he ever learn!

Thursday June 5
Judy still writing.
We woke up to more rain. Oh well, we were going to the coast anyway. Jackie, Barry and I loaded up into the car and headed towards Portland to pick up Jeanne and Albert. We ate breakfast at the Byway Café. Jackie heard about it while watching the Food network on the show called Diners, Drive Ins and Dives. It was a very small place but the food was delicious.
We ran back to the car avoiding the raindrops as much as possible. We headed off to the coast. We were determined not to let the rain ruin our plans. Our first stop was a cute little town called Cannon Beach. The wind was whipping around and we stopped in the little store to get rain ponchos and Albert got an umbrella and a pair of white garden gloves. This town would have been great to walk around and visit the many shops. We got great directions on where to park to walk to the beach to see the 235 foot high Haystack Rock. The origin of this rock began with a serious of eruptions some 17 million years go that poured molten rock over the plateau. The eruptions continued for more than 10 million years spreading lava over 78000 square miles. Some of these lava flows reached the ocean which was 25 miles inland from its present day location,. When the lava invaded the soft marine sediments of the coast different knobs, sheets and fingers of rock began to form. As the rock cooled, it turned into basalt. Over millions of years these basalt formations have eroded to form the rock cliffs and headlands that are seen today along the coast of Oregon.
We parked and walked about a half mile in the torrential rain and wind, down the stairs and on to the beach. We had to get there to say that we were on the pacific coast. We got back into the car and headed for the Oswald West State park where we parked and then began our walk under the road through the trees and down the path to the beach. It was raining still but we did get some nice pictures. Everything is so green and lush. The moss hangs on the trees and makes different shapes such as the monkey we saw hanging from the tree.
A tidbit of information about Cannon beach: Lewis and Clark traveled to the Cannon Beach area in January of 1806 when the native Americans told them about a whale that had washed up on the beach. The whale was found at the mouth of a creek which Clark named "Ecola" a local native American term for whale.
On the way back I met up with a guy carrying a surf board. I asked him what he was doing and he told me that he was there camping with a bunch of kids and that they were all stir crazy from the rain so he said come on and lets have some fun. What better way to enjoy the rain than to go surfing. They all had their wet suits on so they could brave the cold water. Not sure if we think they were crazy or if we were impressed with their determination to have fun no matter what the weather.
From there we traveled south and stopped at a small grill for lunch. It was a good place to stop and the food was good, except for Albert's wings which were not cooked enough. He took them with him to cook later and shared Jeanne's sandwich. We all picked a number for the lottery game and asked the waiter what we should do if we win and he told us to mail him the ticket and he will cash it in for us. Of course there was no mention of him actually sending us the money back home.
We stopped at Cape Meares to see the lighthouse. It was built in 1890 and is 40 feet tall. In 1886 the us army corps of engineers sent a representative to survey both the Cape Meares sight and the Cape Lookout sight, located south of Cape Mears, to see which would be more suitable for a lighthouse. After several days of surveying, the engineers picked the Cape Meares site because of it lower elevation, which would allow light to travel further in foggy weather. Additionally Cape Mears had a spring nearby that could provide fresh water and was more accessible than the Cape Lookout location. In 1887 congress passed a bill that provided funding to begin construction. A road was built to the site and the construction of the lighthouse finally commenced in the spring of 1889. The interior walls were built with bricks made at the construction site, the exterior walls fro sheet iron shipped in from Portland. When the lighthouse was finished in November 1889, its light consisted of a five wick oil lamp turned by a 200 pound lead weight. Today's Fresnel lens was shipped from Paris via Cape Horn and up the West Coast to Cape Meares. The lens has eight sides, four primary lenses and four bull's-eye lenses covered with red panels.
Barry and Albert stayed in the car as us girls braved the weather again to go down to the lighthouse and then we walked up to see the octopus tree. Jackie told us (she was reading the information) that it was made from the Indians bending the branches to hold canoes that held the dead for rituals, but the sign by the tree said it's odd shape was from the coastal winds. We will have to research it more to get the real story. We couldn't believe that it was the only tree in the forest to suffer from the winds.
We stopped at another spot within the park to see the largest spruce tree. We had to walk about a half mile up hill to see it and it was big but not as exciting as we anticipated!
Joni writing.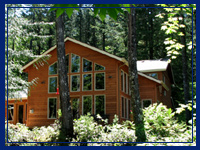 Fred and I had plans for hiking etc. but when we woke up to the weather we decided to try and have a "do nothing" day. Hanging out at this house doing nothing is not such a bad idea. It is really something. The view of the river is great and the view of the house from the river is just as nice.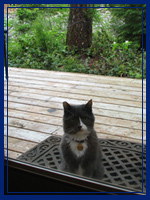 We spent the morning catching up on the journal, going through the mail that Jackie brought us, and letting O.G. in and out of the back door. The cat loves to go out side but isn't pushy about it. He will just sit at the door quietly until you let him out and sit quietly again outside until left in. It's a hoot to look outside and se him patiently sitting there.
We watched a 3 hour movie (Exodus with Paul Newman) on TV in the afternoon but afterwards we had to get outside. We braved the rain and took a 3 mile walk around the area. It's a shame the hiking trails are mostly closed but it hasn't exactly been hiking weather anyway.
Judy writing.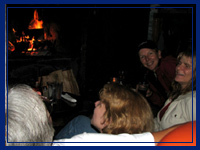 Back into the car for the long drive back to the city to drop off Albert and Jeanne and then back to the cabin. Joni called and told us to meet her at the Rondevous which was the funky looking building on the left. We passed the Skyway bar and grill but continued on looking for the Rondevous. Luckily before we got too far up the road she called us with the correct name – Skyview. We turned around and joined them for a light dinner. They got great seats right by the fire. It was cozy sitting around two tables on the sofa and two overstuffed chairs. We stayed to hear the band a little. I think that this place could really be a lot of fun. The owner and her family were very friendly.

Friday June 6, 2008
Judy still writing.
Happy Birthday Joni - 52 glorious years Oh my, this is the last full day here. Again we woke to rainy weather. And yet again we are not letting it get to us. Ok – maybe a little. We have a full day of travel and sightseeing planned.
We picked up Albert and Jeanne at Grishem's train station. We stopped at K-Mart for some cold weather supplies and now on our way to the scenic route. Our first stop was at the Crown Point Vista House. It was a stone round building with great views of different areas. It was kinda like an information center. It was a little cloudy but still it was scenic.
Albert was allowed to purchase a scarf after some begging and he also picked up a phoenix rock that a volcano spit out many years ago. We got back into our cars and headed off to see the falls.
Our first stop was the Latourell Falls. You could see it a little from the road but we hiked down a short trail to see the powerful water plunging down into the pool below. We started to hike into the woods trying to find an alternate route back to the cars but the rain convinced us not to.
Back at the car. Yep, still raining.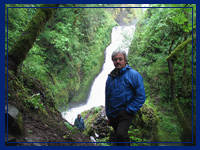 Our next falls stop was the Bridal Veil Falls. Still a sight to behold. This falls also required a half mile hike down to the bottom for a view. We all chose our own way to discover it's wonders. Albert was the most daring of us (yes, Albert the city dweller)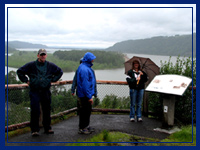 climbing out on the rocks into the flowing river. One wet foot and ankle, he returned to dry land. After a few pictures from the well placed overlook, we headed back. Before returning to the car we took a short nature hike to an overlook of the river. Again, the rain convinced us not to linger.
Back into the car, still raining.
Next stop: Multnomah Falls. This one had a lot more people at it. There was a snack bar and a hiking trail up to the bridge. Try as we might, we could not get Albert up there to the viewpoint. So he voluntereed to stay down and take a picture of us up on the bridge. This was the highest falls in the gorge. It was a great view from up there.
On to the Horsetail Falls. The bottom part of the falls was near the road. We heard about a path that could take us behind the falls. As we were looking at the path structure at the bottom of the hill, a hiker told us that we would not regret going up. He said that it was only .4 of a mile and only steep at the beginning and then it leveled out. I don't know where he came from but the climb was a lot steeper and a lot longer than he alluded to. Switchback after switchback, climb higher, huff, puff, switchback, climb, rest, watch the field trip kids come down, climb higher, switchback, hunch over to catch my breath, huff puff, climb, switchback and finally it leveled off.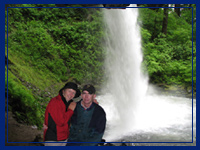 When we got to the top it was a beautiful sight of the falls and a large rock overhang that we could walk into that put us right under and behind the falls. It was a spectacular view of the raging water coming down the rocks. We took lots of pictures and headed down. Albert said that if the guy was at the bottom he was going to punch him in the face for lying to us! He almost stopped halfway up but we all convinced him to continue and we are all glad we did because it was so worth it. The guy was at the bottom and we laughed because he asked us that if he had told us how steep it was would we still have gone? I would have but I can't speak for the rest of them. Jackie and Barry decided to sit this one out. Jeanne and Albert asked the hiker about some plants and we got back into the car. Yep, still raining.
We stopped at the Gorge white house that had a fruit stand and wine tasting. We all tasted some wine and Barry and Albert bought some bottles to take home. Joni got some fruit and back in the car again.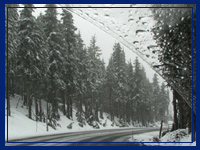 Up the hill to see the Timberline Lodge again for Jeanne and Albert. Going up the hill it started snowing, then more snow, then more snow. It was getting treacherous and when we got to the top it was coming down. Joni and Fred could keep going because they had four wheel drive but we turned down and very slowly got to the bottom.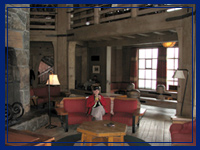 Joni writing We headed up to Timberline through the snowstorm because it was a must see for Jeanne. There were guys with shovels to help people with their cars. The sparking lot was a mess. I was thirsty for a screwdriver (Birthday drink) so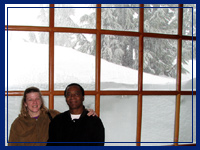 Fred and I went to the bar while Jeanne and Albert looked around. I think Albert took about a thousand pictures. It was very cozy, especially with the snow coming down which we could see through the windows.
We didn't hang long because the snow was not letting up. Leaving the parking lot Fred lost the road for a moment. Very scary. The snow continued for about three miles down until it finally turned back to rain. What a weird June adventure.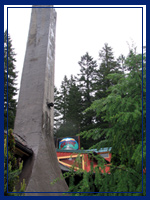 We decided to show Albert and Jeanne the Skywway bar because it was so unique. I really love it there. It is so unusual inside and out. The mural over the fire place gets more interesting every time I look at it.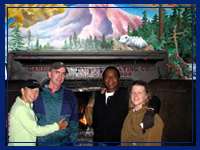 We had a drink and sat by the fire. Jeanne tried a ginger martini and the combination of empty stomach and walking through a rainstorm all day caught up to her. She was loopy on the one drink. We decided to head back to see what the others were up for.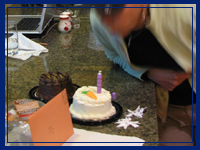 Back to Judy Since it was Joni's birthday we stopped to get her a small cake for when she got home. (actually 2 - A carrot cake and a chocolate cake.)
We hung out at the house for a few minutes and then headed into Gresham to stop and get a bite to eat and drop off Jeanne and Albert. The place we stopped at had the biggest meals for the best value. We all enjoyed the huge portions of food and Joni and Fred and Jeanne and Albert took doggie bags. Back to the house and off to bed.

Saturday, June 7th
Off to the airport and one final time – yep, it's still raining.
Bye bye Joni and Fred.
End of Judy as guest writer.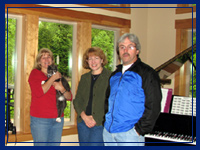 Fred and I were sad to see our family leave. We had a lot of laughs this week. I was especially disappointed for them that it had rained all week. We made the best of things and still did stuff including hiking but it sure would have been much nicer in sun. Goodbye Family. See you soon.
We just adore the Cabin on the Sandy and the cats who came with it so we hung out at the "Cabin" all morning and finally around 3 motivated ourselves to drive into the city to meet up with Jeanne and Albert. Albert was resting since he was not feeling well so Jeanne, Fred, and I set off to explore he city.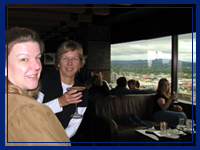 I read about a restaurant/bar on the 30th floor of some bank building. We went up and the drinks were expensive but the views were tremendous. We sat at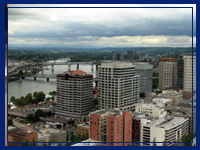 the bar and through the immense windows, we could see three of the bridges of Portland. I wished I was hungry because they had awesome prices for happy hour appetizers. We each had a drink and then walked around the city. We stopped in the Deschuttes Brewery where Fred and I had the beer sampler and Fred had the soft pretzel with beer cheese and beer mustard and Jeanne had the fries.
We walked around some more and then we called Albert and he came to join us. We were looking for the Thirsty Lion but Jeanne and Albert had differing opinions on where it was. First we went one way on Jeanne's direction and then Albert took us another way, and then Jeanne was sure it was just down this street, but Albert said no it was this way. Jeanne had to go to the bathroom so we stopped in a Sports Bar and found out that Big Brown had come in last in his quest for the triple crown. Then we went in search of the Thirsty Lion again and we finally found it. It was a nightclub with pounding music and a line of hip young people waiting in line to get in. Not our style so we walked around some more looking in shop windows and at old buildings. We found the Bridgeport Brewery which was in a neat building. Fred and I had the sampler so I could add 7 more beers to my list. Albert liked the clock on the wall but Jeanne said forget it, it is not for sale. After that we found a sidewalk café where we all got carded. We each had a drink (except Fred who had diet coke) and it was time to call it a night. Fred and I still had an hour drive back to the "cabin".