My Observations:

Saturday May 10, 2008 Sedona, AZ to Scottsdale, AZ
I finally saw some javelinas. As we were packing the car, they went running through the parking lot and into a field. Three big ones with a teeny tiny baby trailing along. They are so ugly, they are cute.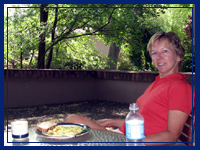 We had one last breakfast on our patio before packing up and heading out. As is our habit with breakfast, we enjoyed it thouroughly. Sedona is one of my favorite places in the country. I am sad to be leaving the beauty and serenity of this town but am excited to be meeting our friends in Scottsdale.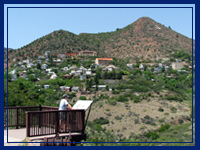 Jerome, a former mining town built on the side of a hill, looks like it could go sliding off down the hill at any moment. Since they are located on a fault line, I guess that could happen some day. We went to the museum, learned about the history of Jerome which at one point in time was labeled as the most sinful town in the US. At it's peak in the 1930's the town's population was over 15 thousand. It has since dropped to 500 but the town is adorable with appealing shops and restaurants on the switchback streets.
It was a scenic and winding drive over the mountain to Prescott. I wanted to explore Prescott since my friend Carol's maiden name was Prescott. Are the Lancaster Prescott's related to the Arizona Prescott's? The town was a hub of activity. We finally found a parking space and started hurrying toward lunch. Some guy yelled at us and we realized he was telling us our car door was open. Duh.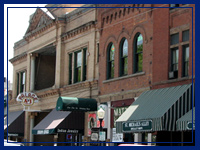 In my haste to apply sunscreen, grab water, grab the camera, and get to lunch, I had left my front car door wide open. That would have been sweet pickings for a thief as all our worldy belongings for 4 months were in the open car.
Downtown Prescott was a hub of activity with all kinds of people enjoying an arts festival that ws in full swing at the park in the middle of town. All the restaurants were full but we were able to split a beer at the oldest bar in Arizona. The Palace was downstairs in what was once a hotel, had swinging doors just like you see in the movies in the old saloons and we could imagine what it looked like long ago.
We had lunch at the Prescott Brewing Company where we split the beer sampler and a great hamburger.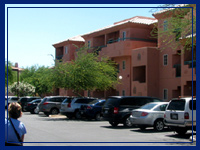 We finally arrived at the timeshare in Scottsdale and were greeted by Jamie and Barry. How wonderful to see friendly smiling faces and know we are going to spending the week in the company of good friends. What a fantastic place. The Finks even have a seperate little lockout with their own kitchen and bathroom. The grounds are also beautiful with two tennis courts and two pools.
After upacking, we went to the grocery store to stock up on food. Our timeshare is set up perfectly for two couples. It is a 2BR lockout so it is like we each have our own apartment. Of course, the first thing Jamie did is come over and lay claim to our couch.

Sunday, May 11, 2008 Scottsdale, AZ
After breakfast at the condo, we did the number one thing on Jamieís list. We went to open houses. In the real estate guide, we saw great deals at McCartney Ranch in Casa Grande (plus the guy from Page gave us an inside scoop that values were depressed there). Our first stop was to take Barry and Jamieís rental car back and then we headed down to Casa Grande looking for McCartney Ranch. When we got to the sales office about 10 minutes early, a large truck was parked outside but the door was locked so we drove around downtown Casa Grande. It was less than impressive but the gas was 15 cents cheaper than Scottsdale so I figured the cost of living here might be lower. At the one bar we could see, there was a large bellied man standing outside at the front door and we joked that he was waiting for it to open.
When we got back to the open house, the realtor had the door unlocked. We were looking at the 9 models available in the neighborhood and I asked him "why do people live here?" He said "because they like Casa Grande." I said, "But WHY do they like it here." He said, "Because they do." Great answer. We thought he was a pompous pompadour. We walked through the model homes and they were all professionally decorated and beautiful. Several of them had open floor plans. We couldnít figure out the price sheet so we sent Jamie back to ask the PP. He made her feel stupid when he took the sheet form her and said, "Itís right here." Every house we went in was Jamieís favorite. She loves the southwest look and these model homes were decorated beautifully. The values were unbelievable. A $320,000 brand new "inventory" home had a sales price of $199,000.
We tried to take the most direct route to Johnson Ranch, the next housing community we were going to look at. We passed 50,000 homes and 1,000 signs pointing us to Centex Homes. Every sign we saw said Centex Homes-Straight ahead. It got to be a joke. When we finally arrived, the agent was not there but the model homes were open. We didnít like these homes as much because the floor plan was not as open as the homes at McCartney Ranch.
We had a delicious lunch (except for Fredís chicken) at the golf course club house at Johnson Ranch while watching the end of The Players Championship.
On the way back to Scottsdale we stopped at Majerles, #11 on the Top Sports Bar list. We could not figure out why it was that far up on the list. All the employees were young 20 somethingís more interested in talking among themselves than waiting on their customers. The bar does have location, location, location. It is blocks from the ballpark and basketball arena. Since it was a Sunday afternoon and there were no sporting events going on, the streets were empty.
Happy Motherís Day, Mom.
After stopping at Sports Authority to stock up on golf balls for our 36 holes tomorrow, we had dinner at Gordon Biersch. Jamie had the best salad of her life and mini burgers to die for. Fred and I had the beer sampler which gave me 7 more beers to add to my list.

Monday, May 12, 2008 Scottsdale, AZ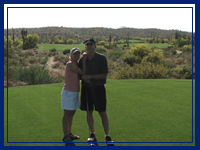 After getting up at 6 and having breakfast at the timeshare, of which my highlight was coffee made by Barry and served with love (he and Jamie had been up for two hours by the time Fred and I drug our sorry butts out of bed), we headed to WeKoPa to golf 36 holes. We were all planning to walk the first 18 holes (yes even Jamie) and then we found out the Cholla course is riding only and cart path only.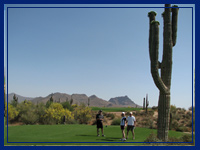 We were not happy about the cart path only until we realized that keeping carts off the fairways made them beautiful. Every fairway was perfection. It was like playing on a carpet. Even the rough had very few imperfections. Because the course is on an Indian reservation there are no houses. The desert landscaping seemed completely natural. It was more beautiful than we remember from our last trip. Jamie and I were aahing all day over the bunny rabbits especially the babies. They were everywhere and so cute.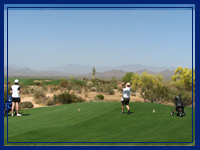 We had lunch on the patio at the clubhouse before heading out for our second 18 holes on the Saquaro course. The Saguaro course was built for walking. If anything, the course was in better shape because of less cart traffic. Jamie and Barry walked the 1st nine and took a cart the second nine. Fred and I walked all 18. What were we thinking? We were tired, tired, tired by the time we finished. We Ko Pa is definitely on our top 10 golf list. The course was in pristine shape and the holes are cut such that we could see no other golfers. We felt like we were on our own personal courses.
After the round, we went back to the timeshare for our own personal happy hour. Barry was hurting so he and Jamie headed down to the hot tub. Fred, sitting on the deck of our third floor condo, heard Barry moaning and sighing as he sank into the hot tub.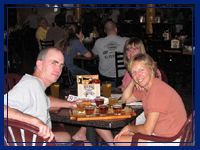 Later Jamie told us that some guy asked them what was going on over there. He must have heard Barry also.
After rejuvenating ourselves, we headed out to Four Peaks Brewing for dinner. We sat on the covered patio and were entertained by our personable waitress. She was the second oldest of 10 children, had just graduated from college and was planning to spend the summer with her family at their lakeside cottage in North Dakota.

Tuesday, May 13, 2008 Phoenix, AZ
We hung out in the morning at the condo and I am getting spoiled by Barryís coffee made with love. We were talking about the camera club people that were at Out of Africa. Jamie said I bet it was interesting to talk to them about their photos. I said not really they didnít talk much to us. She said "oh did they keep to themselves. Were they clickish?" And then started to laugh quite amused at her wit. As a matter of fact, they were clickish!
Jamie and Barry went to the store to get a few things while Fred and I stayed at the condo and caught up on our bills. Late morning, Fred and I went to play tennis. Not long after, Barry and Jamie came to sit at the pool and watch us play tennis. Barry promptly fell asleep in the sun. I lost as usual but it was a good work-out.
Fred and I decided to check out the fitness center and Jamie came along with us. Fred and I grabbed some free weights and started lifting. Jamie looked around and said "I donít feel comfortable here. I am going to get Barry and we will meet you at the condo for lunch." Ok Jamie Ė you are on vacation after all.
For lunch Barry cooked us bratwurst and Italian sausage outside on the grill. We sat under the gazebo and enjoyed the great weather. This is something we can all do together Ė EAT!
Jamie and Barry are taking a nap (at least that is what they said) while I am catching up on the journal. As a matter of fact, Fred is napping too. ZZZZZZ.
When Jamie finally got out of bed, I asked her to give me some help with my journal. She said if she was guest journalist she would say that Vacations are supposed to be relaxing but this week is the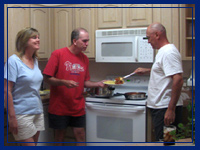 clash between the active Haucks and the sleeping Finks. The Haucks spent the day by playing two rounds of tennis, three games of shooting hops, and going for a run while the Finks took three naps.
Happy Hour at 6, Dinner prepared by Barry at 7. Yumm. Awesome spaghetti with pepperoni, sausage, and hamburger although there was a dispute as to whoís recipe it was. Fred and I didnít care because it was delicious. The Haucks were supposed to make the salad and vegetables but forgot so it was 2 servings of spaghetti.

Wednesday, May 14, 2008 Scottsdale, AZ
The Finks wake up at 4 am so by the time we left for downtown Scottsdale at 10, (after I had my coffee made with love) they already had a half day of activity in. I use the word activity loosely Ė for them it was a walk to the reception center and sitting by the pool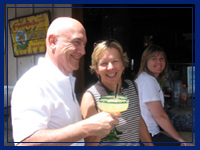 watching water aerobics where Barry took a nap.
In downtown Scottsdale, we were planning to walk around and explore the town, but after passing the Salty Senorita on the way to the Post Office, we decided that the Salty Senorita was the place to hang out. Barry and I enjoyed Cadillac Margaritas while Barry and the "ring through his lip" bartender discussed the merits of various tequilas. Because the bartender bonded with Barry, he gave us a free shot of Don Julio 1942 tequila. I had a sip and thought it burned the whole way down.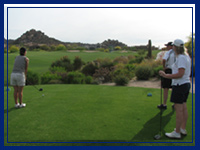 We were feeling good by the time we got to Troon North to tee off on the Monument Course. The course was scenic and fair unless you got off the fairway, then you were in the dessert and good luck finding your ball. The course was surrounded by beautiful homes but they were not intrusive on the golfing experience.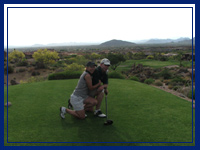 Jamie, in particular, loved browsing these homes because her dream home was always in the southwest style of architecture.
The weather was perfect-85 degrees, no humidity, and fair skies. Even though Troon is one of the more well known courses in this area, it was uncrowded so we did not have to hurry, which was good considering the greens had been recently aerated and were super slow. We enjoyed Troon North Monument Course and, for a nice and welcome change, all played well.
We had dinner at Foxís Sports Bar sitting on the patio. Fred had pizza and decided the best pizza in Scottsdale is not here but at Gordon Biersch. Barry had a shrimp appetizer that he shared with me (he offered-I did not ask). I had the salmon dinner that included garlic mashed potatoes. I was feeling just right until Jamie ordered cheesecake and insisted that I help her eat it. I think she had two bites, Barry had one bite, Fred had a nibble, and I had the rest.
When we got back to the timeshare we watched the movie Michael Clayton. Well at least three of us did. Jamie fell asleep.

Thursday, May 15, 2008 Scottsdale, AZ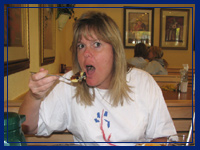 We have eaten breakfast in the condo all week. I canít complain because each day I got coffee made with love from Barry. Jamie had been craving (lusting) for blueberry pancakes and found out that The Good Egg was the place to go for breakfast. Indeed it was. Everything was delicious. There is nothing like a well made breakfast. Yumm! After breakfast, we had an hour back at the condo which is "just enought time for a nap" Jamie said with a laugh.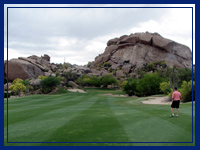 Boulderís Golf club is aptly named as there are many holes with piles of boulders either behind the tee or behind the green. These large rocks are like nothing else we have ever seen on a golf course. Some are the size of houses perched so
that they look like they will fall any minute. The greens on the front nine were also aerated which is not fun. On the back nine they were not and it took us a while to keep from putting way past the hole. What a difference. Again the weather was under 90 degrees and perfect. Top top off the day, we saw three coyotes walk across the course behind us on hole 17.
After golf we went to Charleston and had a drink at the bar. The guy next to us started talking and appeared to be thrilled to find out we were from PA. He grew up in Hagerstown, Md and claimed that he played LCC many times. However, we doubted his claim since he said LANcaster. He said he has played 1,499 golf courses and rates courses for Golf Week. The more Jamie chatted with him the more we realized that he thought quite a lot of himself.
We returned to Gordon Biersch for dinner. Jamie and Fred love the sliders. Julia, our server, had an accent and after asking a few questions, Fred guessed correctly that she was from Czechoslovakia. We peppered her with questions and she filled us in on how she came to the USA as a nanny which is ironic because she does not like kids. She married, moved to Phoenix, got divorced, and is now waiting to get her citizenship. We all enjoyed talking with her.
Jamie drove us back to the timeshare and the Finkís promptly fell asleep.

Friday, May 16, 2008 Scottsdale, AZ
Out the door and on the road by 6 to take the Finks to the airport for their flight to Mexico. We will miss you guys. It was a fun week with lots of laughs and stories. "Iíll tell you tomorrow."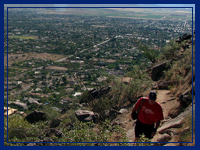 Fred and I went to hike Camelback Mountain. We thought we knew what we were getting ourselves into and figured we would be up and down the mountain and at breakfast before Jamie and Barry took off on their flight. We were so wrong. Jamie, it is good we did not talk you into taking this hike
with us this week. It was brutal. Several times we lost the trail and one time ended up hugging the side of a cliff trying to avoid being jabbed by cactus as we inched along. At that point, I was scared. We were too stubborn to turn around and were determined to make it to the top which we finally did an hour and a half later. We could see the ballpark in Phoenix downtown and all of Scottsdale. After enjoying the views from the top, we found it easier to keep on the trail on the way down although it was not easier on our knees.
We deserved our breakfast at The Good Egg and enjoyed every bite. Jamie we had a blueberry pancake in honor of you and it was just as good as yesterday. We had an interesting pair sitting at the table next to us. He was on the phone talking to one of his buddies and she butts in and says, "Jeffrey, tell him the truth, you were drunk and that is why we left." I was starting to feel sorry for him because she kept harping at him. However, that quickly diminished when Jeffrey called the waitress over to yell at her because she ignored him when he sat down and waited on another larger table because she saw a larger tip there. Blah, blah, blah. He went on and on. The waitress started to apologize and he said oh you always have excuses, I donít want to hear any excuses. And I plan to let the manager know. Then, his girlfriend starting yelling at him for being rude and we got up and left. On the way out, we told the manager what had happened and the manager said bring it on, Iíll be ready for him. I donít know if I have ever seen anyone act so rude.
Fred and I felt lonely back at the timeshare without our roomies. I know you guys are having fun in Mexico. Have a magarita or three for me. After our hike from the morning, we did not have much energy to do anything. We hung out the rest of the day doing laundry, crossword puzzles, and Fred got caught up on the pictures. I did manage to motivate myself enough to spend 15 minutes at the gym.